Bueno cabrones otro disquillo perdidon pero bastante bueno y chingon (como su servidor que lleva un nombre parecido) me hacen un honor al llamarse Magog (solo que le agregue una "H" para evitar problemas legales y BIBLICOS jejejej)se les denomina "Viking/Folk/Melodic Black Metal" (segun Metal Archives) provenientes de Suecia y ya saben que les traigo casi puro viking y folk pero puro disco bueno no chingaderas. Se cambiaron el nombre a "EVANGELI" pero su status esta: SPLIT-UP osea que no creo que se reuna de nuevo. Sin mas Magog asi que si lo ven por la red ya saben donde lo vieron primero.
Magog - Hymns to the Ancient (demo) (2002)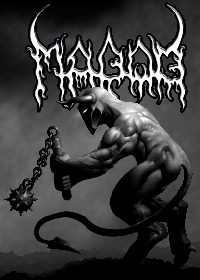 1. A Hymn To The Ancient (Instrumental) 04:50
2. Free From Life Within 06:56
3. Oppossing Temptational Light 08:02
Total playing time 19:48
Descárgalo/Download It!!!
By: Lord Magohg